My relation with Taylor Swift is complicated: I don't hate her — in fact, she seems like a very nice person. But I definitely hate her songs: her public persona always comes up to me as entitled, abusive, and/or an unpleasant person overall. But what if she didn't have to be? What if we could take her songs and make them more polite? What would that be like?
In today's post we will use the power of science to answer this question. In particular, the power of Natural Language Processing (NLP) and word embeddings.
The first step is deciding on a way to model songs. We will reach into our NLP toolbox and take out Distributional semantics, a research area that investigates whether words that show up in similar contexts also have similar meanings. This research introduced the idea that once you treat a word like a number (a vector, to be precise, called the embedding of the word), you can apply regular math operations to it and obtain results that make sense. The classical example is a result shown in this paper, where Mikolov and his team managed to represent words in such a way that the result of the operation King - man + woman ended up being very close to Queen.
The picture below shows an example. If we apply this technique to all the Sherlock Holmes novels, we can see that the names of the main characters are placed in a way that intuitively makes sense if you also plot the locations for "good", "neutral", and "evil" as I've done. Mycroft, Sherlock Holmes' brother, barely cares about anything and therefore is neutral; Sherlock, on the other hand, is much "gooder" than his brother. Watson and his wife Mary are the least morally-corrupt characters, while the criminals end up together in their own corner. "Holmes" is an interesting case: the few sentences where people refer to the detective by saying just "Sherlock" are friendly scenes, while the scenes where they call him "Mr. Holmes" are usually tense, serious, or may even refer to his brother. As a result, the world "Sherlock" ends up with a positive connotation that "Holmes" doesn't have.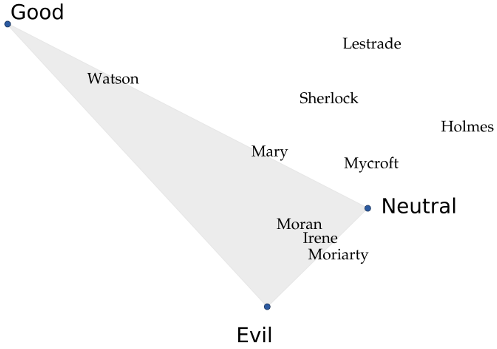 This technique is implemented by word2vec, a series of models that receive documents as input and turn their words into vectors. For this project, I've chosen the gensim Python library. This library does not only implement word2vec but also doc2vec, a model that will do all the heavy-lifting for us when it comes to turn a list of words into a song.
Keep reading...